Service Projects
Our weekly meetings explore many topics, emphasizing kids, community and family.
Below is a sample of service projects the Kiwanis Breakfast Club of Seminole is actively engaged in.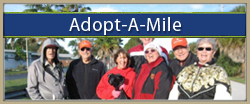 In February 2015, our club adopted mile segment 13 in Seminole. Our approximately 1 hour clean-up takes place on the "even" months (Feb., April, June, August, Oct., and Dec.) on a Saturday morning at 8:00 a.m. between Seminole City Park and Blossom Lake Park. Please join us or wave to us as you ride or walk by!