Our Mission

Find out why Kiwanis Breakfast Club of Seminole is here and what we do.
Get Involved

Learn about some opportunities to serve with Kiwanis Breakfast Club of Seminole today.
Join Us

We meet Tuesday mornings at 7:15am at Lake Seminole Square in the 3rd floor Card Room.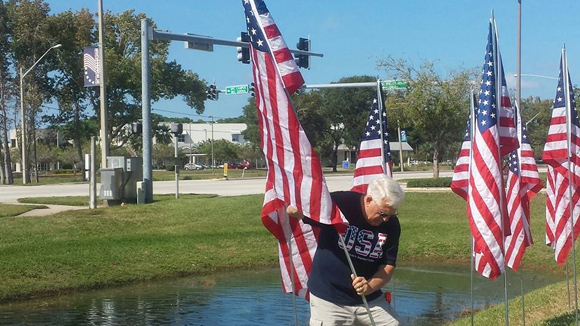 SPONSOR A FLAG FOR A VETERAN
Field of Honor
Honoring our veterans with a spectacular display of patriotism from Nov. 1st to Dec. 3rd in front of Seminole City Hall. Sponsor a flag for a veteran with your service member's information. Contact Wayne @ 813-767-4682 or Vicki @ 727-744-4418 if you have any questions.
# of Flags Remaining : 63
V.F.W. Post 4364 sponsored a flag in honor of

All Who Have Served So Bravely

Served: 1776-2016 | Branch: Army/Marines/Navy/Coast Guard/Air Force

Bill Jones sponsored a flag in honor of

Shelby Jones

Served: 1954-1958 | Branch: Navy

V.F.W. Post 4364 sponsored a flag in honor of

All Who Have Served So Bravely

Served: 1776-2016 | Branch: Army/Marines/Navy/Coast Guard/Air Force

Barbara & Wally Nickse sponsored a flag in honor of

MARTHA E CORMIER

Served: 1939-1978 | Branch: US Navy Nurse Corps

Barbara & Wally Nickse sponsored a flag in honor of

WALTER NICKSE

Served: 1941-1945 | Branch: US Coast Guard

Barbara & Wally Nickse sponsored a flag in honor of

HARRY B ZINN

Served: 1955-1979 | Branch: Navy

Billie Jo Grassinger sponsored a flag in honor of

BERNARD GRASSINGER

Served: 1948-1952 | Branch: Marines

Carl Gingola, of the City of Seminole Citizens Academy Alumni sponsored a flag in honor of

GORDON MAULDIN

Served: Vietnam | Branch: Army

Mike Cashman sponsored a flag in honor of

KIP CASHMAN

Served: 2002-Present | Branch: Marines

Randy Hall sponsored a flag in honor of

THERESA HEATON

Served: 1983-2006 | Branch: Army

James Allen sponsored a flag in honor of

KENNETH PADDOCK

Served: 1945-1946 | Branch: Navy

James Allen sponsored a flag in honor of

SAM ALLEN

Served: 1951-1953 | Branch: Army

Ryan Jones sponsored a flag in honor of

ALONZO VANHOOSE

Served: 1942-1945 | Branch: Army

Lona Mathews sponsored a flag in honor of

LONA MATHEWS

Served: 1955-1959 | Branch: Air Force

Oak Manor sponsored a flag in honor of

MICHAEL DUDECK

Served: 1944-1945 | Branch: Army

Oak Manor sponsored a flag in honor of

ROBERT CROWL

Served: 1950-1953 | Branch: Army

Oak Manor sponsored a flag in honor of

CARL RANGO

Served: 1942-1945 | Branch: Navy

Oak Manor sponsored a flag in honor of

HAROLD MARTIN

Served: 1944-1956 | Branch: Army

Oak Manor sponsored a flag in honor of

LEMUEL COUSINS

Served: 1978-1980 | Branch: Army

Oak Manor sponsored a flag in honor of

GEORGE NAVARRO

Served: 1944-1966 | Branch: Navy

Linda Burhans sponsored a flag in honor of

DAVID McCAULEY

Served: 1943-1945 | Branch: Navy

Nancy Corbin sponsored a flag in honor of

JOSEPH CORBIN

Served: 1943-1946 | Branch: Army

Joyful Noise Connection Group sponsored a flag in honor of

ALL WHO SERVED SO BRAVELY

Served: 1776-PRESENT | Branch: Army/Marines/Navy/Coast Guard/Air Force

Robyn Sherma sponsored a flag in honor of

JAMES FORD

Served: 1776-1778 | Branch: Continental Army

Bob Byelick sponsored a flag in honor of

PAUL BYELICK

Served: 1942-1945 | Branch: Army

Catherine Torregrossa sponsored a flag in honor of

BERNARD WOODS

Served: 1942-1945 | Branch: Navy

Donna Hayden sponsored a flag in honor of

DONALD GRAHAM

Served: 1943-1946 | Branch: Navy

Fredric Jones sponsored a flag in honor of

FREDRIC JONES

Served: 1958-1960 | Branch: Navy

Cicely Wulff sponsored a flag in honor of

PAUL WULFF

Served: 1945-1949 | Branch: Army

Cicely Wulff sponsored a flag in honor of

CHRISTOPHER WULFF

Served: 2001-2005 | Branch: Marines

Cicely Wulff sponsored a flag in honor of

DAVID MORRIS

Served: WWII | Branch: Navy

Abby Andres sponsored a flag in honor of

WILLIAM F ANDRES JR

Served: 1976-1999 | Branch: Coast Guard

The Daughters of the American Revolution sponsored a flag in honor of

FOR ALL WHO SERVED SO BRAVELY

Served: 1776-1789 | Branch: Army/Marines/Navy

Merri Ray sponsored a flag in honor of

FRANKLIN WELCH

Served: 1943-1980 | Branch: Army

Irmgard Hembree sponsored a flag in honor of

ORVAL HEMBREE

Served: 1941-1948 | Branch: Army

Carl Gingola, a Member of the City of Seminole Citizens Academy Alumni sponsored a flag in honor of

ALFRED MOLINARI

Served: WWII Pearl Harbor Survivor | Branch: Army

Carl Gingola, a Member of the City of Seminole Citizens Academy Alumni sponsored a flag in honor of

MICHAEL GALGANO

Served: 2011-Present | Branch: Army

Carl Gingola, a Member of the City of Seminole Citizens Academy Alumni sponsored a flag in honor of

DON DENNY

Served: Korea POW | Branch: Army

Carl Gingola, a Member of the City of Seminole Citizens Academy Alumni sponsored a flag in honor of

GRANT RAULERSON

Served: Korea | Branch: Army

Carl Gingola, a Member of the City of Seminole Citizens Academy Alumni sponsored a flag in honor of

RAY RAULERSON

Served: 1987-1993 | Branch: Army

Carl Gingola, a Member of the City of Seminole Citizens Academy Alumni sponsored a flag in honor of

CARL GINGOLA

Served: 1971-2007 | Branch: Navy/Army/Air Force

Sharon Koelsch sponsored a flag in honor of

JAMES P KOELSCH

Served: 1970-1995 | Branch: Navy

Sharon Roy sponsored a flag in honor of

LEONARD MAXTUTIS

Served: 1923-1926 | Branch: Army

Sharon Roy sponsored a flag in honor of

JOSEPH SHELTRY

Served: 1982-2000 | Branch: Navy

Hugh Umsted sponsored a flag in honor of

CHARLES UMSTED

Served: 1943-1945 | Branch: Army

Bob's Vets sponsored a flag in honor of

ALL WHO HAVE SERVED OUR COUNTRY SO BRAVELY

Served: 1941-2016 | Branch: Army/Marines/Navy/Coast Guard/Air Force

Andrea Sieradzki sponsored a flag in honor of

JOSEPH KANIA

Served: 1955-1959 | Branch: Air Force

Elaine Feld sponsored a flag in honor of

ALFRED SYVERTSEN

Served: | Branch: Air Force

Don Carlson sponsored a flag in honor of

ADAM LUZAK

Served: 2005-2013 | Branch: Marines

Janice Cox sponsored a flag in honor of

VIVIAN ROSS-NAPP

Served: WWII | Branch: Waves

Nicholas Giammona Jr. sponsored a flag in honor of

NICHOLAS GIAMMONA

Served: 1967-1970 | Branch: Navy

Tom Tubbs sponsored a flag in honor of

STEVE TUBBS

Served: 2002-2006 | Branch: Army

Paolina Kennedy sponsored a flag in honor of

DAVID N KENNEDY

Served: 1970-1975 | Branch: Army

Helen McKay sponsored a flag in honor of

ROBERT T McKAY

Served: 1943-1946 | Branch: Marines

Mary Wallace sponsored a flag in honor of

LEONARD WALLACE

Served: 1941-1945 | Branch: Navy & Air Force

Jackie Ditchcreek sponsored a flag in honor of

VINCENT MILILLO

Served: 1942-1945 | Branch: Marines

Jackie Ditchcreek sponsored a flag in honor of

EDWARD DITCHCREEK

Served: 1965-1969 | Branch: Navy

James O'Neil sponsored a flag in honor of

SFC FRANCIS CUMMINGS

Served: 1942-1972 | Branch: Army

James O'Neil sponsored a flag in honor of

COL BRIAN O'NEIL

Served: 1989- PRESENT | Branch: Army

Shirley Rozner sponsored a flag in honor of

MARION S ZIELINSKI

Served: WWII | Branch: Army

Jackie Mizisko sponsored a flag in honor of

MICHAEL MIZISKO

Served: 1953-1955 | Branch: Army

Mary Kohler sponsored a flag in honor of

JOHN KOHLER

Served: 1964-1968 | Branch: Air Force

Christine Milnthorpe sponsored a flag in honor of

GORDON NORDQUIST

Served: WWII | Branch: Navy

Raymond Beliveau Jr. sponsored a flag in honor of

RAYMOND BELIVEAU SR

Served: 1940-1942 | Branch: Navy

Justin Schacher sponsored a flag in honor of

JUSTIN SCHACHER

Served: 2005-2014 | Branch: Army

Don Bates sponsored a flag in honor of

SCOTT BATES

Served: 2000 - Present | Branch: Army

J Warren Coachman sponsored a flag in honor of

JAMES COACHMAN SR.

Served: 1941-1945 | Branch: Navy

Mike Haygood sponsored a flag in honor of

JESSE HAYGOOD

Served: 1942-1946 | Branch: Army

American Legion Post 273 sponsored a flag in honor of

ALL THAT HAVE SERVED OUR COUNTRY SO BRAVELY

Served: 1941 -2016 | Branch: Army/Marines/Navy/Coast Guard/Air Force

Shayra Rosario sponsored a flag in honor of

LT. COL. MARCO ROSARIO

Served: 1975-2009 | Branch: Army

Stephen Allen sponsored a flag in honor of

GORDON ROBERTS

Served: 1942-1946 | Branch: Navy

John Coughlin sponsored a flag in honor of

JAMES COUGHLIN

Served: 1952-1972 | Branch: Marines

Diane Holmes sponsored a flag in honor of

JOHN HOLMES

Served: 1961-1965 | Branch: NAVY

Anne Yeager sponsored a flag in honor of

PAUL YEAGER

Served: 1945-1946 | Branch: ARMY

Anne Yeager sponsored a flag in honor of

DALE BURMEISTER

Served: 1957-1978 | Branch: Marines

Kerry Barker sponsored a flag in honor of

MICHAEL TAGUE

Served: 1965-1974 | Branch: Marines

Gay Mitchell Shelton sponsored a flag in honor of

DONALD MITCHELL

Served: 1957-1959 | Branch: Navy

Dave LaTurno sponsored a flag in honor of

DAVE LaTURNO

Served: 1967-1969 | Branch: Marines

Donna Mashburn sponsored a flag in honor of

VIRGIL MASHBURN JR

Served: 1952-1954 | Branch: Air Force

Kadi Tubbs sponsored a flag in honor of

RANDALL J. HENDRICKS

Served: 1969-1970 | Branch: Army

James Garrity sponsored a flag in honor of

WILLIAM GARRITY

Served: | Branch: Merchant Marines

Susan Ajoc sponsored a flag in honor of

PACIFICO AJOC

Served: 1940-1946 | Branch: Air Force

Susan Ajoc sponsored a flag in honor of

EDUARDO AJOC

Served: 1960-1980 | Branch: Navy

Mark Norberg sponsored a flag in honor of

WILLIAM KAUFMAN

Served: 1941-1945 | Branch: Army

Mark Norberg sponsored a flag in honor of

GEORGE NORBERG

Served: 1942-1945 | Branch: Army

Edwin Deering sponsored a flag in honor of

EDWARD A DEERING

Served: 1942-1943 | Branch: Navy

Bob Root sponsored a flag in honor of

JOSHUA ROOT

Served:2014-Present | Branch: Navy

Diana Schwarz sponsored a flag in honor of

SAM F SINSEL

Served:1918-1919 | Branch: Army

Becky Bell sponsored a flag in honor of

DONALD M JONES

Served:1942-1945 | Branch: Army

Catherine Timmerman sponsored a flag in honor of

RAYMOND KING

Served:1948-1962 | Branch: Marines

James J Quinn sponsored a flag in honor of

JAMES J QUINN

Served:1956-1960 | Branch: Navy

Lisa Sparacino sponsored a flag in honor of

MICHAEL SPARACINO

Served: | Branch: Marines

Lisa Sparacino sponsored a flag in honor of

ANTHONY SPARACINO

Served: | Branch: Army

Ben Brubaker sponsored a flag in honor of

GREGORY A MARSHALL

Served: 1968-1970 | Branch: Army

Catherine S Jones sponsored a flag in honor of

WILLIAM JONES

Served: 1955-1958 | Branch: Air Force

Catherine S Jones sponsored a flag in honor of

CHARLES "PETE" SNEAD

Served: 1950-1954 | Branch: Air Force

Robert L. Smith sponsored a flag in honor of

HAROLD REID JR.

Served: 1949-1953 | Branch: Army

Charlene Jasmine sponsored a flag in honor of

ROBERT MARQUA

Served: 1963-1966 | Branch: Army

John McKenney sponsored a flag in honor of

SCOTT McKENNEY

Served: 1967-1970 | Branch: Army

Kathy McKenney sponsored a flag in honor of

WAYNE McKENNEY

Served: 1960-1991 | Branch: Air Force

David Green sponsored a flag in honor of

ALBERT GREEN

Served: 1945-1947 | Branch: Army

David Green sponsored a flag in honor of

MERLE GREEN

Served: 1942-1946 | Branch: Marines

Kristine Hartland sponsored a flag in honor of

KYLE TAYLOR

Served: 1987-present | Branch: Navy

Kristine Hartland sponsored a flag in honor of

DOUGLAS TAYLOR

Served: 1950-1957 | Branch: Navy

Linda Johnson sponsored a flag in honor of

RONALD CAREY

Served: 1969-1970 | Branch: Army

Linda Johnson sponsored a flag in honor of

DUANE CAREY

Served: 1942-1946 | Branch: Marines

Sue Kotchman sponsored a flag in honor of

RICHIE CUSMANO

Served: WWII | Branch: Army

Loren Price sponsored a flag in honor of

MORGAN JACKSON

Served: 2015-present | Branch: Army
Improving The World, One Child And One Community At A Time